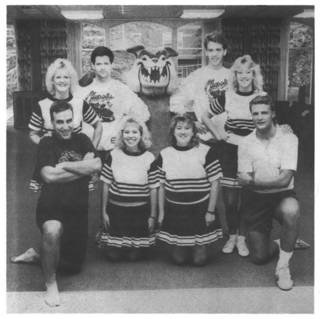 You know what, I'm not even going to tell you which one is me. This is the Spirit Squad for Concordia Teacher's College in the fall of 1988. An interesting statistic is that 50% of all collegiate cheerleaders are male.

So here's the story: As a Freshman I was looking for ways to get involved and to serve my new alma mater. I was a Senator from my dorm floor. My roommate and I were hanging out in the student union (we called it a "campus center") when these girls asked us to join the cheer squad. "We'll call you yell-leaders, not cheerleaders," they said, "we need some guys so that we can build stunts," they said.

What 18 year old guy can say "no" to a girl? The rest is history.